Student Health
Reminder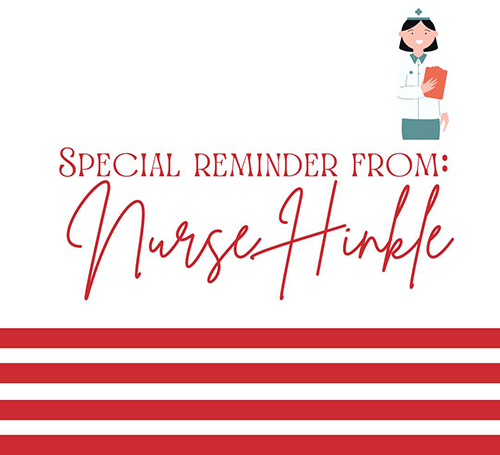 Reminder FCSD #2 Families,
As stated in the 2022-2023 Student Handbook - All students regardless of grade level will see the nurse prior to going home due to any illness. If you are receiving a text message from your child that they are ill, please advise them to see the nurse.
Thank you!
Anna Hinkle
Anna Hinkle L.P.N
FCSD#2 Nurse/Food Service Director
Letter From Our Nurse
Hello FCSD #2 Families,
I'm pleased to be serving your children for my fifth school year. I have been a parent in this district for several years and I cannot imagine a better group of educators, parents, and students to collaborate with. I truly enjoy the personalities I am able to see in each child when they enter my office.
In addition to handing out ice packs several times a day, I also ensure student immunization compliance, vision and hearing screenings, daily assessments when students aren't feeling well, and most importantly keeping communication open with our families. Response from you is extremely important regarding communication from my office.
It is imperative that families communicate their child's illnesses with me. This includes chronic (long-term) or acute (short-term). This will assure I'm delivering the best care possible to your child when they are at school. The more I know, the better I can serve your family. Please set up a time to meet with me and discuss any health issues your child has.
My goal is to team with you to ensure your student's health and safety while they are at school. Please do not hesitate to contact me if I can be of any assistance.
Anna Hinkle
Anna Hinkle L.P.N
FCSD#2 Nurse/Food Service Director
Student Health Screenings
We screen the following grade levels each year as recommended by the Wyoming Department of Education. We will complete both hearing and vision screenings.
Kindergarten
First, Second, and Third
Seventh and Tenth
Once we complete the screenings, we record the results and mail copies home. If students need a referral after the screening process, we will make parent notifications. We conduct a follow-up between the nurse and parent/guardian to ensure we meet the student's needs, and assistance is available if needed.
School Medication Policy
FCSD #2 has standing orders signed by a medical provider for over-the-counter medications. At the beginning of the school year, parents/guardians consent to their child receiving these medications during the online registration process. This includes, but is not limited to, ibuprofen, acetaminophen, cough drops, lip balm, and antibiotic ointment.
Some students require us to administer medications during the school day. This will be for short-term use such as antibiotics, or long-term use, daily prescription medication. In either situation, you must complete the Request for Administration of Medication form, and you, the parent/guardian, and the prescribing medical provider must sign the form. You can find the form under "Health Forms".
When to Keep Your Child Home
Many parents ask, "When is my child too sick to go to school?" This is not always an easy question to answer. A child who is sick cannot perform well in school and is likely to spread the illness to other children and staff. In general, we ask that you keep your child home from school if he or she has any of the following symptoms or diagnosed illnesses:
A fever greater than 100 degrees
Vomiting/diarrhea for any reason
Coughing: nonstop, deep, barking, or productive with mucous
Drainage from the nose or eyes that is not clear
Any new rash
Unusually sleepy, lethargic, or grumpy
Diagnosed strep throat - The student may return 24 hours after the first dose of antibiotic is administered.
Any illness that has kept the student up and awake during the night
Reminder
Your student may return to school:
After being fever free for 24 hours without fever-reducing medication
24 hours after vomiting has stopped
We can all reduce illness at Dubois K-12 school by using basic infection control methods:
Keep sick family members home
Do not share food or drink
Cover all coughs and sneezes
Wash your hands frequently
Let's curtail school illness by keeping sick children home.