Activities & Athletics—Home of the Rams!
Clubs & Activities
We firmly believe in encouraging students to participate in activities beyond the normal school day. Doing so allows kids to interact with their peers and adults outside of their regular classroom environment, pursue individual interests, and develop new skills. We offer a wide range of clubs and activities for all ages, and these programs are consistently popular among the students. There's more to school than classroom work. Regular activities provide students with valuable learning experiences beyond the "3 R's."
Yearly field trips at every grade level
National History Day
Rocky Mt. Food Bank Commodities Loading
Warm Valley Lodge Game Nights
School-wide recycling
With our variety of campus clubs, we know you'll find something you'll enjoy!
Drama Club / Missoula Children's Theatre
MathCounts Team
Debate (Forensics Team)
Student Council
National Honor Society
Athletics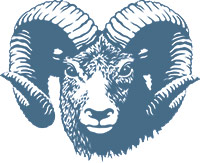 Welcome to the home of the Rams! Participation in team and individual sports not only promotes a feeling of family and belonging, but it allows students to develop themselves physically and emotionally. Students gain strength and skills and have the opportunity to develop leadership skills while learning the art of good sportsmanship and fair play.
Watch Games Live
We now have a new live stream system at Dubois High School. The NFHS network provides both live broadcasts and on demand recordings of all the events we film.
Please visit the NFHS Network website and follow the directions listed below.
On the left, click on "Find Your State"
Select WY
Scroll down, find and click Dubois High School
When you select a video, it will ask you to either sign in or subscribe.
The yearly subscription is $60.00 and monthly is $9.95.
The system has a feature that allows you to cut and make highlight films. The games will be archived and available anytime. This is a great way to watch game film at home too.
Our plan is to film as many events as possible here at the school and also on the road if we can. We'd like to include concerts and drama productions as well. You may email Tina Baker or call her at (307) 455-5551 if you have problems or questions.
Contact Our Director
Tina Baker, Athletics Director
(307) 455-5551
Athletics Calendar
We hope you'll use the interactive capabilities of this calendar to send reminders and schedule changes to your home computer or mobile device. See you at the game!