Transportation
Our Transportation Department places a top priority on the safety of each student in our district. We support all district transportation needs such as busing students to and from school each day, providing special needs transportation, accommodating all extracurricular and activity trip busing needs, and providing vehicles for employees to attend workshops and conferences.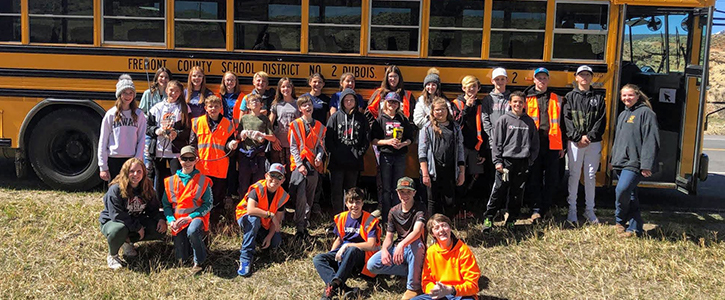 DMS road clean up day - May 2021
Bus Rules
Riding the bus is a privilege that we take seriously at Fremont County School District. Please review the bus rules with your child regularly.
Follow all directions given by the bus driver.
Be on time at the bus stop.
Keep the bus clean.
Keep your voice at a normal, inside tone.
Stay in your seat.
No tobacco, weapons, or drugs.
Keep all objects secure and inside the bus (no throwing objects on or off the bus).
Keep arms and head inside the bus.
Students may not change buses without a pass.
Take care of school property.
Contact Information
Steve Splichal, Superintendent
Fremont County School District #2
(307) 455-5545